Year 1 Homework
Thursday 1st December 
 
Well, we have had a brilliant week in Year 1 this week. We have started learning about 'subtraction' in Maths, and we have been practising our writing remembering capital letters, full stops and finger spaces! We have loved learning about history this week and we have learning about Josiah Wedgwood and Emma Bridgewater.
We have started continued our learning about 'subtraction' in Maths and we are doing very well with this. We are also improving our problem solving skills. This week we have started design and technology and we have made some Christmassy sliders and levers – watch this space!  
  Don't forget that you can find all of our Autumn 2 crucial knowledge for all areas of learning by clicking our  *crucial knowledge page*.
Please find this week's homework below, this is due to be completed by Wednesday 7th December 2022 
Spellings
We are recapping the /ss/ and /zz/ sound and some tricky words. Practise these spellings below ready for a 
spelling test on Friday 9th December
ox
run
from
buzz
cross
less
miss
there
they
crossroads
Reading
Reading is a very important part of learning, please read with your child at home every day – just 10 minutes and make a note in their reading diary 😊
Maths
 In maths we have been solving subtraction using counters, part whole models, tens frames and number lines.
Let's practise some more subtraction for your maths homework. Solve these calculations below and use the number track to help you.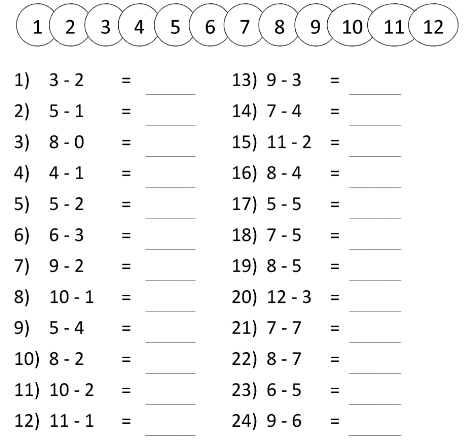 Going the extra mile? Recap our number bonds to 10 song that we started this week here.
Maths Whizz
You are all on Maths whizz now and have completed your assessments! You should have a log-in that has come home. See if you can make some progressions on Maths Whizz. Remember if we make lots of progressions – we might be able to win a bronze, silver or gold certificate!
Send us any pictures of your homework by emailing our usual email addresses.